Legendary Marketer Review: A Possible Good Work From Home Choice?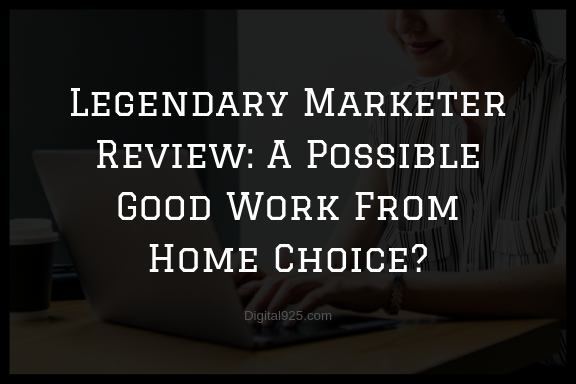 Legendary Marketer
You hear more and more about people earning a good living online working from home. Can Legendary Marketer help do that for you? I am sure you will find the answer to that question here.
There are a lot of scams out there and trying to weed them out from legitimate opportunities can be difficult. Once you do find legitimate money-making opportunities you have to decide if it's a fit for you and plays to your strengths.
Well, I have done the research here and laid out the Pros and Cons of Legendary Marketer to help you find out if this work-from-home money-making opportunity is a good fit for you.
Please do not join this opportunity until you read this honest review.
What Is Legendary Marketer?
Legendary Marketer is an online business training opportunity created by Dave Sharpe. They offer all levels of Affiliate Marketing training to enable the member to earn a living working from home or anywhere in the world.
The base product is a monthly subscription of a video training platform offered for $30 a month. The subscription allows access to:
Live and virtual training
Monthly affiliate marketing classes
Marketing, sales, and management training
Lead generation
Facebook ads
Facebook fan page and groups marketing strategies
YouTube and Instagram marketing strategies
Legendary Marketer also provides promotional resources for your new online business, like:
Banner Ads
Lead Capture page
Ad copy
Video promos
45-day email sales copy sequence
What Other Products Does The Legendary Marketer Offer?
In addition to the $30 Pro account Legendary Marketer offers a staggering array of other high-priced products. You may want to grab a seat and take a look:
Traffic Rolodex Bundle – $247 one-time fee. Claims to teach how to take advantage of paid traffic sources like Google, Facebook, Instagram, Youtube, GDN (Google Display Network), and Twitter.
Legendary Builder Masterclass – $2,500 one-time fee. Claims to teach and focus on these main topics: Master of Enrollment, Attraction Code, Storytelling Formula, and Profitable Presentations.
Legendary Leader Masterclass – $5,000 one time fee. Claims to teach how to build a brand and become an influencer.
Affiliate Marketing Business Blueprint – $2,500 one time fee. Claims how to get set-up, learn about the affiliate business model, and how to find products to promote.
Digital Products Business Blueprint – $2,500 one time fee. Claims to teach how to channel your knowledge and passions to create and sell courses through video, audio, and print.
Coaching and Consulting Business Blueprint – $2,500 one-time fee. Claims to take your knowledge and use it to coach others.
Is Legendary Marketer Affiliate Really Free to Start?
There is a basic account (Free) that allows an affiliate account. You can earn up to 30% commissions on sales and referrals from personalized links and web pages.
There is also The Pro Account we discussed earlier that costs $30 a month that allows up to 60% commissions of sales and referrals from personalized links and web pages.
I opted in for  The Pro account and proceeded with the 15 Day Challenge training. As I learned about the other products and services offered and the commission's structure on these high-dollar offerings I was hyped up.
I was not ready for the upsell pressure. I began not to feel like an invited guess to dinner but as the main entree on the menu as the target of these high-dollar offerings.
There were a lot of upsells. My advisor was talking about me spending thousands of dollars like it was nothing. For some reason, a $30,000 figure was stuck in my head. I believe I saw it somewhere and blocked it from memory. LOL.
What my advisor was saying actually made sense and maybe great for someone who would like a business in a box built for them. I am not sure that is for me.
But if you like to avoid high pressure upsells and would like great training and community Check Out My Best Recommendation!
How Do You Earn Money With Legendary Marketer?
Let's get this out of the way first. This is what is stated on the Legendary Marketer's Income Disclaimer page.
The numbers below reflect estimates prepared by the company pending a more detailed survey to be conducted after its first year. The average annual gross income for Affiliates is projected to be between $500 and $2,000 based upon industry standards and company projections.
With that said, remember a Basic Affiliate earns a 10-30% commission rate and a Pro Affiliate earns a 40-60% commission rate. This is the breakdown:
Legendary Marketer's Club – $18 Pro and $9 Basic
Traffic Rolodex – $98.80 Pro and $24,70 Basic
Affiliate Business Blueprint – $1,000 Pro and $250 Basic
Digital Products Business Blueprint – $1,000 Pro and $250 Basic
Coaching and Consulting Business Blueprint – $1,000 Pro and $250 Basic
Events and Masterminds Business Blueprint – $1,000 Pro and $250 Basic
Marketer Mastermind – $3,200 Pro and $800 Basic
Entrepreneur Mastermind – $4,800 Pro and $480 Basic.
There looks to be a huge opportunity to earn income here. I really believe that.
If you would like an equally huge opportunity to earn a living online without having to sell the company's products and services Check Out My Best Recommendation!
What I Like About Legendary Marketer
There is a ton to like about Legendary Marketer. Here are a few of them.
The Landing Pages – The landing and capture pages are wonderful. I am sure the video converts well. Beginners and experienced alike will find success using them.
High Ticket Offerings – The high ticket offerings and the equally high commission rates make this program attractive.
Business In A Box – I believe it is possible for a person to plug into the system and be successful.
What I Do Not Like About Legendary Marketer
I have nothing against Legendary Marketer but there are a few things I did not like about it and here they are:
The Many Upsells – I know everyone would like to make money but there is a limit. I chose the Pro Account and was later hit with a $2000 upsell. I was told it was discounted from $8000.
Self Promotion – I get it the owner and many of the members (employees) are proud of the program but there are hours and hours of self-promotion videos. I believe most people know in the first hour if they are in or out. LOL.
The Paid Traffic Route – The program and training focus on paid traffic. Even when successful paying for traffic is expensive and it is difficult to be successful. You will have to calculate that with all of the other monthly expenses.
I Do Not Want To Become An Employee – The training and resources are focused on you promoting Legendary Marketer products. That reminds me too much of a job. Even my advisor sounded like a company employee rather than an entrepreneur.
I Question The Longevity – I do not believe the business model is sustainable. I get a slight pyramid pump and dump vibe. I admit I may be negatively biased from past experiences but time will tell.
Conclusion
As far a the nuts and bolts of it all I like what Legendary Marketer is doing but it is not for me. They are doing everything right when it comes to Affiliate Marketing but it feels somewhat cold a calculating. Like you are the target not a valued member of the program. I would like more work from home feel
The training and resources mainly focus on promoting Legendary Marketer. The products are extremely overpriced in my opinion in order to pay commissions to members and advisors. There is nothing wrong with that but I would have an issue promoting a program with that business structure.
I would only feel comfortable promoting this program to someone with deep pockets and would like a plug-and-play business opportunity that could possibly make money online. Give Legendary Marketer a try for yourself.
I believe you can similar training become successful working from home earning a living online at a fraction of the cost of Legendary Marketer. There are even free options with similar training.
If you like to avoid high-pressure upsells and would like great training and community Check Out My Best Recommendation!
That is what I think of Legendary Marketer let's hear what you think in the comments below.