Wealthy Affiliate, Honest Online Business Review For 2021
I joined Wealthy Affiliate a few years ago for a change of pace because I was not getting great results in my online business ventures.
Even after becoming a member, I continued getting lackluster results. It took a long time and many hours of conversing with The Wealthy Affiliate community to realize I was the problem.
I believed I already knew everything. LOL. I did not take the training seriously and did not follow directions well. Believed I knew what it took to become successful and I believed I knew how long it should take.
I found this common problem with many people starting a business online. So many people nowhere close to being successful in earning online income believe they know everything about being successful online.
I come to believe whatever a person believes it takes to be successful in earning online income 10X it. Be prepared to go ten times harder than you initially believe or go home. Really! Cover the kid's ears. You have to GO HAM!
This will be an honest review of what I found while participating in The Wealthy Affiliate Program and the online community. I have been a member for 3 years now and this review will not be a sales pitch for Wealthy Affiliate.
This is my promise to yours. Just an Honest review of my experiences and journeys.
Who I Am
My name is Tony and I am a semi-retired I.T. Professional. I started earning a little money online 15 years ago. Not a lot but I always played around with the idea.
If, you would like to learn more check out my About Me page at TonyWideman.com. I experimented with a bunch of programs. Here are a few of the most popular programs I tried that did not tickle my fancy. LOL
SFI was an interesting program. It was somewhat profitable but there were too many options and directions for me. It was confusing for me and even more confusing for the people I introduced to the program.
AffiloJetpack is a program I still like to promote. I still promote this program because I believe it's still a good one-stop shop for affiliate marketing training. Some people do not like to get into debt knowledge and training.
They just like to be told exactly what to do to earn a profit. There are problems with this approach because you never learn why you do what you are doing.
The other problem I still have with this program is its high price and the information can be somewhat dated because it is not as active as Wealthy Affiliate.
Resellers Panel is another program I tried and still promote because I allow people to become web hosting companies in just a few clicks. It really does! You control almost everything when you start your web hosting company. You even set the prices and the offerings.
The training is a little weak as web hosting is a business with a huge learning curve. I still host some of my websites by myself at a cost.
There were many more I tried and steer clear of. Those were just disastrous. Wealthy Affiliate is my favorite as the training and community are great.
Wealthy Affiliate Grew On Me
I first joined Wealthy Affiliate and quickly dumped it after the initial training. I found it simplistic and repeated I believed it repeated information I already knew. A year or so later I realized the real problem that causes me to quickly dump Wealthy Affiliate.
The training and the community spoke the truth to me and I did not like it. The training was rock solid and did not even hint about earning money quickly.
The community did the same. Every time someone would speak about the need to earn money quickly many members would echo the voice of reason
"Follow the training", " Get rich quick is not the business model" and providing value and helping people be the secret sauce of success.
I came back to the sobering reality that building a business will take time. I then asked myself if there was anything better I should be doing. Then I realized I was not limited to creating just one business.
I could create 2, 3, 4, 10, or more businesses and found myself falling in love with the Wealth affiliate opportunity all over again.
As you may have guessed I am currently a Wealthy Affiliate member and I will get credit when anyone clicks any of my links and takes a look at the free opportunity and become a premium member.
If, you would like to give Wealthy Affiliate a try just click one of my links, and sign up to become a member of our community for free. I will be notified and available along with thousands of other experts to answer the question and offer any help you may need.
The Wealthy Affiliate Free Option Is Very Powerful
For most people free is good. With Wealthy Affiliate free can be amazing. The free membership gives your temporary full access to the training videos, live chat, and community features, while other features only last for a limited time.
Here is what you get with the free Wealthy Affiliate Membership.
Live Help – First 7 Days
2 Websites
Website Backup
Beginner Training Course
Personal Affiliate Blog
Affiliate Bootcamp Training – Phase 1 Only
Video Walk-Throughs
Keyword Research Tool – 30 Searches
Training Classrooms – 2
Affiliate Program
1-on-1 Coaching – First 7 Days
The free option is a great place to start but I recommend the Premium Membership to propel you towards success in record time. The free membership is a great way to take a look around and judge if you are prepared to do the work necessary to become successful.
If Wealthy Affiliate seems like something you may be interested in giving it a try. Remember it's free.
Is The PREMIUM Wealthy Affiliate Membership Option Right For You?
The premium Wealthy Affiliate membership grants you access to everything. If you're serious about building an online business, Wealthy Affiliate is the place to be.
There resides an amazing experienced community eager to help along with videos, tools, and resources. It took me leaving The Wealthy Affiliate community after taking a look around only to return more than a year later to appreciate what Wealthy Affiliate has to offer.
The foundation, training, and community are fresh and updated regularly. I found that refreshing as many other opportunities are stale and outdated.
There is live video training offered weekly and pre-recorded video and other training are added almost daily. You can browse in search of training that may fit your needs at any point and time.
THE COMMUNITY IS AMAZING! Full access to this community is one of my favorite features of the Premium Membership. I am usually just a lurker but not with this community. Compelled to participate.
I spend a lot of time every day learning from other members, chatting, messaging, and helping people who accepted by free offer after using my link to sign up.
Here are some things that are included with the Wealthy Affiliate Premium Membership:

Live Help – Unlimited
Private Messaging – Unlimited
50 Websites
Website Security Package
Website Backup
Beginner Training Course – Full Access
Personal Affiliate Blog
Affiliate Bootcamp Training – All Phases (7)
Live Video Classes
Video Walk-Throughs
Keyword Research Tool – Unlimited Searches
Training Classrooms – 2
Affiliate Program – 2x Higher Payout
Earn While You Learn
1-on-1 Coaching – Unlimited
Private Access to Webinars
24/7/365 Website Support
Website Feedback Platform
Comment Platform
Website Analysis
After taking a look around and leaving I later realized Wealthy Affiliate Premium Membership was a great deal. For example, you get free professional unlimited keyword research. You can pay the price of the premium membership for that option alone.
Professional, secure (SSL Included) web hosting for up to 50 websites. Yeah! secure hosting for 50 websites included in the cost of the Premium Membership.
Don't forget the resources and tools most need to build an online business all in one convenient place. There is even more. All the training, tutorials, and support all included.
Starting a business cost money. You can stand years or even decades of learning that valuable lesson. In the long run, you will save tons of money investing in yourself and your business.
That is no reason not to be smart and frugal with your money and precious time. With Wealthy Affiliate Premium, you are literally getting more than everything you will need to start a successful business online.
You will get the training, web building tools, website hosting, backup, security, and support all in one place at the best price possible.
Wealthy Affiliate Success Stories
Made $7,395 in a WEEK: First Black Friday Results!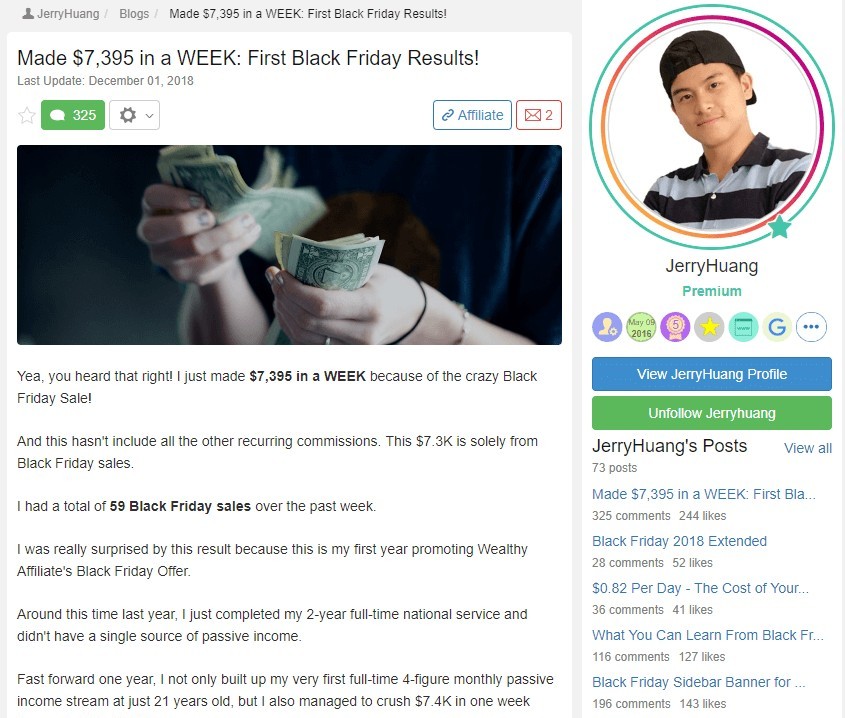 Grace Made $4,373/month after only 22 months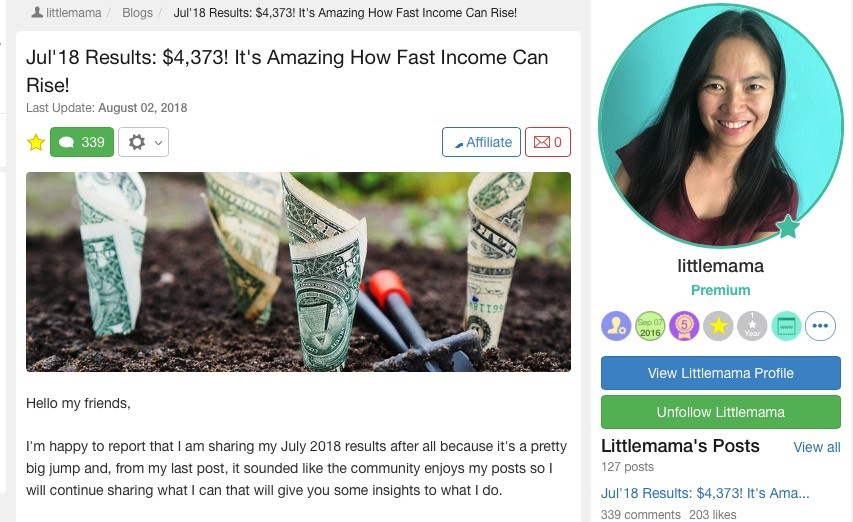 Check out Leo's $35,000
Back At 5 Figures: I Earned $10,640,56 in August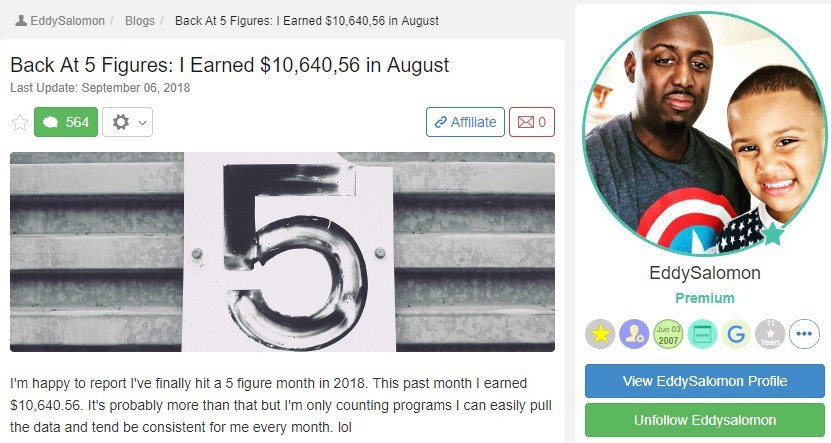 I Made $5,000 in a Week + Got All-Expenses-Paid to Vegas!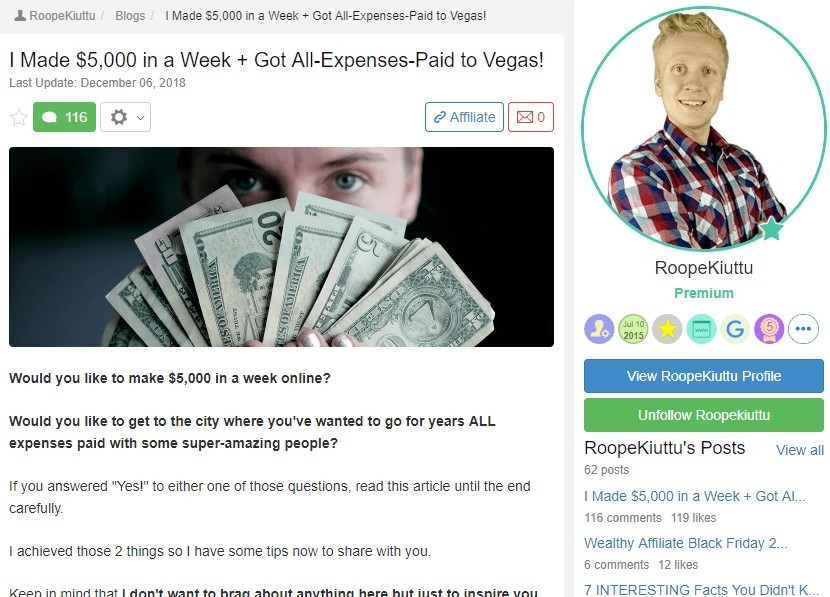 What I Like About Wealthy Affiliate
OK, It's no secret I really like The Wealthy Affiliate Program but I have been totally honest with your here. It is in my best interest, to be honest about everything I recommend on this site and I take that very seriously.
Here are some things I like about Wealthy Affiliate. I love the straightforward quality training. Wealthy Affiliate training focuses on building two different types of businesses.
I strongly suggest new members follow that direction. I must admit I was hard-headed and went a different route and that delayed my success for years.
The two paths of Wealthy Affiliate training suggest are brilliant because you learn what is needed to be successful. Once you finally learn and develop the necessary skills you can then move on and create the other businesses your dream of.
I also love the web hosting offered by Wealthy Affiliate. The security is top-notch. There are many tools included to secure your site from the ills of the outside world and ensure site speed.
The fact you can host 25 custom domain sites and no extra cost is HUGE! I also love the writing platform provided by Wealthy Affiliate. There are tools and templates to ensure you create quality content.
The Jaaxy keyword research tool is amazing. Everything begins with keyword research and this research tool does an excellent job. You will grow to love this tool.
Last but not least in the Wealthy Affiliate community. There are tens of thousands of experts from all walks of life ready to help your 24 hours of the day.
The community will save beginners and experts alike time and money. Get all of your questions answered or just bounce ideas off the community's collective knowledge and experience.
Things I DON'T LIKE About Wealthy Affiliate
Nothing is perfect and nothing serves all needs so here are some things I do not like about Wealthy Affiliate. The training is focused primarily on basic and intermediate training.
I admit I am a little selfish in this respect because that path serves the majority of people. There is a lot of advanced training available but it is more difficult to find.
I would love more advanced training or maybe a built-in autoresponder and email marketing system. Wealthy Affiliate is slowly correcting this problem with weekly video training and member-developed training.
Is Wealthy Affiliate For You?
I am not here to sell you anything. The purpose of this honest review is to help people decide if they would benefit by becoming a member of Wealthy Affiliate.
Anyone can sign up for a free account but I would not like anyone to waste their time if Wealthy Affiliate will not be a good fit.
I do suggest no one take my word for it and give Wealthy Affiliate a try for free. I still would like to give my opinion on who I believe Wealthy Affiliate is ideal for.
Wealthy Affiliate is perfect for beginners interested in earning a living online. Experienced and advance people will also benefit from Wealthy Affiliate's offerings also but beginners will benefit and grow the most because they will learn the correct way to build a profitable online business.
They will learn to have realistic expectations and understand there are no get-rich schemes. They will have to invest at least 6 months of hard work into their business to begin earning a steady income.
If, you can do that Wealthy Affiliate is a great place for you. If, you can not invest at least 6 months of hard work I would not recommend your give Wealthy Affiliate a try.
A wealthy Affiliate is a great place for anyone who would enjoy a one-stop place to create and grow a profitable online business. Domain registration, web hosting, security, keyword research, writing platform, weekly video training, step-by-step video training library, written training, and a very active online community. All in one place on one well-designed cohesive platform.
Wealthy Affiliate is perfect for the person that would not like to shop around and try to find the services they believe they will need to create and support their business.
Do not spend a year or more wasting time and money as I did to only one day realize Wealthy Affiliate has all the tools needed to create and support a profitable business online.
Wealthy Affiliate literally provides absolutely everything you'll need to succeed with your online business.
Who Wealthy Affiliate May Not Be For?
You never know the potential a person may possess so I always suggest everyone take advantage of the Wealthy Affiliate free membership but I admit starting an online business is not for everyone.
That said I do believe there are people Wealthy Affiliate will not be a good fit for.
If, you are a person looking for a get-rich-quick scheme or whose financial situation dictates your need to earn income quickly Wealthy Affiliate is not for yours.
That type is a person will need to get another job or do something else to get their finances in order before starting an online business. The need to earn money quickly usually leads to a person making poor business decisions.
It's highly unlikely (but not impossible) anyone will earn substantial monthly income quickly with Wealthy Affiliate or any start-up business. It usually takes 3 to 5 years for a new start-up business to earn a profit.
It will not take that long to earn a profit online but it will take time. Wealthy Affiliate training and support teaches how to build a real, sustainable online business correctly, over time.
Wealthy Affiliate is not for you if you are not a person that can be taught, follow instructions,s and enjoy the interaction in a very active online community. The community is a huge part of the Wealthy Affiliate membership. It's a great place to get help and help others.
This is a big one! If, you don't like to write or produce content Wealthy Affiliate is not for yours. You do not have to be a great or even a good writer you will just need to be able to create content on a regular basis.
Video content can be a great substitute for writing so much. You will be speaking to people part of your desired niche like the people you communicate with every day.
The Wealthy Affiliate business model revolves around producing lots of content that attracts website visitors from search engines like Google, YouTube, Bing, and Yahoo.
If you believe you can continue achieving success staying with the free membership and never upgrading to premium, Wealthy Affiliate is not for yours.
The free membership is a great way to dip your toe into affiliate marketing and to see what Wealthy Affiliate is all about but it is not a great way to build a long-lasting profitable business.
The Premium membership should be reserved for those who are actually serious about building a real business for themselves. If you will not be in this for the long-haul, there is no reason to waste your money.
Conclusion
Wealthy Affiliate has been helping people become successful and creating profitable businesses since 2005. Guess what? The membership fee has relatively been the same the whole time while still getting better.
I have been around for a long time. I have bounced around and tried almost everything under the sun and I believe Wealthy Affiliate be the best place with all the training and tools you will need in one place.
Don't forget if you sign up using my link I offer free 1 on 1 coaching. Remember you have nothing to use signing up for a free membership and tell me what you think below.
Good luck on your quest for Location-Independent Income and financial freedom.
Visited 1 times, 1 visit(s) today