Jeunesse Global, Honest Online Business Review
Let's take a look at Jeunesse Global. We will see it this is a good company to work with to build a Lifestyle Business. I am more interested in the quality of life and not just making money at all costs.
Can you build a business around the life you would like to live with Jeunesse Global? Lest's that a deep dive inside and find out.
Meet Jeunesse Global
Jeunesse Global is an MLM Skincare and Health Care company founded in 2009 by Randy Ray and Wendy Lewis  and does business in 140 Countries.
Jeunesse Global sells anti-aging skincare products, health supplements, antioxidants, and vitamins meant to delay aging and prolong your health and youthful appearance.
Experts estimate the anti-aging market will be worth $271 billion by 2024. With an aging population and increasing expectancies, this estimate may be low.
Jeunesse Global Products
Let's take a look at Jeunesse's most popular products. These products Jeunesse Global calls The Youth Enhancement System ( Y . E . S ). They are divided into two groups listed below.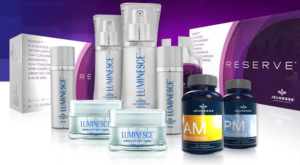 Skincare and Beauty:
Instantly Ageless – Instantly Ageless is a powerful micro cream that works quickly and effectively to diminish the visible signs of aging.
Luminesce – Luminesce Cellular Rejuvenation Serum, featuring the highest concentration of the Jeunesse exclusive APT-200, brings out your skin's luminous glow. It revitalizes with botanical ingredients, including coconut and sweet potato root extracts.
NV – Created by a celebrity makeup artist, NV is a luxury makeup line designed to deliver high-definition results for a flawless, airbrushed look that gives your skin Beauty With Benefits. Formulated with our exclusive APT-200 and moisturizing aloe, NV features skin-healthy ingredients to nourish all skin tones.
Naara – Skincare you can drink, Naära™ provides 5,000 mg TruMarine™ Collagen* to help replenish the skin's natural loss of collagen over time.
RVL – Reveal your best hair with RVL, a luxury at-home haircare system that would just as easily be at home in the world's most exquisite salons. Infused with Jeunesse exclusive HPT-6™ – a revolutionary polypeptide technology – and botanicals like fenugreek, flaxseed oil, and jojoba oil, RVL blends the finest of science and nature. Uniquely formulated, each product works to help gently revitalize the appearance of your hair and scalp for fuller-looking hair. The invigorating citrus scent of the RVL collection has a hint of clarifying eucalyptus for an alluring and uplifting experience.
Health and Wellness:
AM & PM Essentials – AM & PM ESSENTIALS are dietary supplements exclusively designed for your well-being. By targeting your body's morning and nighttime needs, AM & PM ESSENTIALS provides a balanced approach to improving your quality of life from the inside out.
Reserve – RESERVE™ makes the feeling of youthful living last. With a botanical blend of antioxidants that super-charge your internal systems, RESERVE™ is a naturally sweet supplement bursting with exotic fruit juices. It contains a host of powerful ingredients that repair free radical damage and protect cells against future harm. Your cells stay healthier, live longer, and leave you looking and feeling great.
Monavie – It's time to get moving! MonaVie Active is an innovative blend of 19 fruits, including the Brazilian açaí berry, plus plant-derived glucosamine, so you can live life in motion.
Finiti – It's in our company DNA to create products that help you look, feel, and live younger. That's why we created Finiti — our most advanced supplement to date, providing support for your body's health.
Zen Bodi – ZEN Prime™ sets the standard for total body cleansing. This proprietary formula contains liver-friendly milk thistle, full-spectrum plant enzymes, grape seed extract, dandelion root, and juniper berry. These key ingredients have long been used in Herbal medicine and are each uniquely valued for their cleansing properties.
M1ND – M1ND — featuring CERA-Q™ — is a dietary supplement clinically shown to support memory and reduce mental distraction.
RevitaBlū  – Formulated by a pioneer in stem cell research, RevitaBlū is a botanical blend of blue-green algae, sea buckthorn berry, and aloe vera with coconut water powder. It's a refreshing drink mix that tastes as great as it works. These sought-after ingredients are legendary in their pure form. Combined in our proprietary RevitaBlū, they more effectively hydrate and support your body's systems. As you come to realize the amazing benefits of these prized ingredients, there is no question RevitaBlū will be the go-to product for your life and lifestyle. Revitalize and renew with RevitaBlū.
MX20 – With more than 70 trace minerals and black organic fulvic and humic acids, MX2O dietary supplement is formulated for living life to the max.
What Could It All Mean?
As you can see Juenesse Global offers a variety of Skincare, Health, and Wellness products. They pride themselves on developing products based on the latest and greatest scientific principles.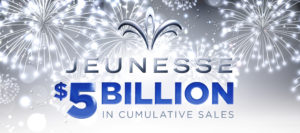 Let's take a look.
Jeunesse Global claims to be light years ahead of the competition on research and development in Stem Cell Research.
They have been working with Dr. Nathan Newman a world-renowned dermatologist.
He is well known for his popular stem cell facelifts, using adult stem cells to reverse signs of aging in his patient.
Dr. Newman using his experience and expertise to help produce topical treatments to achieve similar results as his office visits. Luminesce, Jeunesse Globals' flagship product is the result.
Jeunesse Global believes its products benefit from being on the cutting edge of Stem Cells, DNA repair, and Antioxidants research.
The scientific community agrees these are exciting times and all of Jeunesse's claims could be possible.
This is the foundation that could make a great company to partner with.
Are Juenesse Global Products Overpriced?
JeunesseGlobal's products are high-quality skincare, anti-aging, health, and wellness products. Let's take a look at what their most popular products cost.
Luminesce Serum:
Retail price: $137.95; Wholesale price: $89.95/60 CV
Instantly Ageless (1box):
Retail Price: $74.95: Wholesale price: $44.95/30 CV
If you do a little research you will quickly find that Jeunesse Global products are priced considerably higher than similar products offered by their competitors. Despite those competitors having scientifically documented results. Will that result in higher commissions or more difficulty selling the products?
Jeunesse Global commission volume value (CV) is what Jeunesse Global distributor's commission is partly based on.
Does Juenesse Global Provide A Good Online Business Opportunity?
Jeunesse Global like all MLM companies requires distributors to sell products to recruit and train people. With Jeunesse Global distributors buy products wholesale and sell at retail prices.
To become a member you will need to purchase a kit. Your membership will include your very own website to promote products online, 24/7 training, business tools, your own business app.
Like all MLM companies, the vast amount of commissions come from residual income from sales made by the team you build. If you are lucky you can work your way up the commission later to earn expensive prizes and trips.
.
How Much Will Juenesse Global Business Opportunity Cost?
To become a member of Jeunesse Global you are required to purchase a Starter Kit for $49.95 and pay an annual membership renewal fee of $19.95.
Hopefully, when the time comes to pay the annual fee you will be profitable and it can be waived by maintaining 360 CV in accumulated auto-shipments during the year.
You will need to review your distributors' contract for other miscellaneous costs and as usual, you will incur the normal additional cost associated with running a business.
Can You Make Money With Juenesse Global?
You know the routine. Distributors will need to purchase products at wholesale (about 40% off) and sell them for retail. The distributor can even lower the retail prices by about 15% as an incentive for preferred customers.
The distributor's profit will be the difference between wholesale and retail prices. The most lucrative way for the distributor to make money is to get people to join your team means that you will earn additional commissions from products sold by your sales team.
In order for you to continue to receive commissions you also have to sell or purchase a minimum amount of products each month.
Pros:
– The Anti-Aging, Health, and Wellness Niche is a great Niche.
This niche is filled with ready, willing, and able customers.
– Very ample Membership Package.
The Starter Kit.
– Low Minimum Sales Requirement.
In order to continue a distributorship, you need only sell 100 CV in a month within your first year and purchase or sell 60 CV of product each month.
– 30-Day Refund Policy.
All distributors will get a full refund if they resign within the first 30 days of their contract. If they resign within a year, they will get a 90% refund.
– Jeunesse Global is a Global Business.
The benefit of being a global company will help increase sales and the ability to recruit members.
Cons:
– An MLM business.
I am not a fan of MLM businesses. Selling and recruiting friends and family leaves a bad taste in my mouth.
– High sales requirements
The distributor and their team have will need to meet a minimum sales quota each month. If they don't, you won't qualify for residual income.
– High priced products.
Trying to convince customers of the higher quality of the products will be very difficult when they know there are similar products out there that are cheaper and maybe just as effective.
– No FDA Approval.
These products fall into the cosmetic category and do not require FDA approval.
– Poor Customer Service.
Jeunesse Global receives a high volume of complaints according to the BBB. From poor customer service, product shipping delays to counterfeit products.
Is Juenesse Global A SCAM?
In one word, no!
Many people believe all MLM businesses are a pyramid scheme. I believe most businesses are MLM, grocery store, Auto Dealership, Department Stores, and the like.
Distributors buy a kit and sell enough products to earn a little money. Most people doing this will not earn a full-time income to sustain their lifestyle.
But still not a SCAM!
Conclusion
I believe the Anti-aging, health, and Wellness niche is very lucrative. Despite that fact, I believe MLM is the wrong approach to earn a profit working with Jeunesse Global.
Selling a product at a profit, recruiting, and training a team can be exhausting and that is typical with most MLM opportunities. If you are truly interested in earning an income online I have a better opportunity for you.
If you would like to earn a living around the life you would like to live instead of living a life around the way you earn a living this is my #1 Recommendation.
We all have a hobby or something that gets us excited and motivated when we think about it. It only takes one idea to create a very successful business online. Don't have any ideas? No problem, Wealthy Affiliate will help you choose the direction of your business from over 1,000,000 different niches. [ More ]